Our History and Mission
The American Women's Club of Genoa was founded on February 22, 1957, largely through the efforts of its first president, Mildred Nichol.
In 1975, it became an associate member of FAWCO (the Federation of American Women's Clubs Overseas) and in 1979 changed its name to the American International Women's Club of Genoa (AIWC).
AIWC is a non-profit, non-denominational and apolitical organization. We welcome English-speaking women from all over the world and provide a forum for the vital exchange of information and ideas so important to newcomers to Genoa.
The Club aims to preserve and promote America's image, language and traditions in Genoa and to explore and foster appreciation of the cultural riches which Italy offers.
AIWC organizes social gatherings, cultural visits and other events for members. We also support several local charities especially those helping women and children and at least 2 FAWCO grants.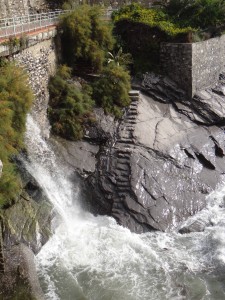 Helping the community
We work with our Genoa community in many different projects. Below but are a few of the groups we work with.
ANFFAS: ASSOCIAZIONE NAZIONALE FAMIGLIE DI FANCIULLI ED ADULTI SUBNORMALI
Anffas is a non-profit organization that looks after intellectually and mentally disabled children and adults who do not have family members to care for them.  Our donation goes to the restoration and redesigning of Villa Rosa, where 28 intellectually disabled members live and work.  Here they practice the principles of equal opportunities, non-discrimination and social inclusion; providing residents with a secure and caring environment.  The project was started in the Spring of 2011 and is ongoing.
ANGLICAN CHURCH IN GENOA
We support the maintenance of the church and their fundraising activities.
CANCER PREVENTION CENTER (CENTRO ONCOLOGIGO LIGURE)
We have supported this center for many years. The association's mission is to prevent  cancer in women. It was founded 10 years ago by Dr. Guglielmo Valenti. Our latest donation went towards funding a new ultrasound machine to help detect breast cancer.
DON LUIGI OF SAN SIRO PARISH
They receive support towards utilities for the church or emergencies within the parish or as suggested by the US consular agent.
LA SCALETTA
We support this charity which supports families by taking care of babies in daycare while their Moms work or attend school. AIWC members may volunteer to help to care for the babies.
FAWCO Foundation
We support the FAWCO Foundation Education Grant in the name of Frieda Bacigalupo-Natali receives an annual contribution from AIWC towards the scholarship for students in the area of Science and Medicine.
SPINA BIFIDA:  GASLINI INTERNATIONAL CHILDREN'S HOSPITAL
Our annual Spring Gala is organized to support spina bifida research at the hospital. Spina bifida is a birth defect in which the backbone and spinal canal does not close before birth and may be seen as a sac on the mid or lower back of the baby. It is the most common disabling birth defect in the United States.
Dr. Cama, the Director of the Neurosurgery Department at the Istituto Gaslini has been coordinating research on spina bifida and has been instrumental in discovering a gene linked to this defect. We are proud to to help Dr Cama's research and his effort to find a cure for spina bifida.